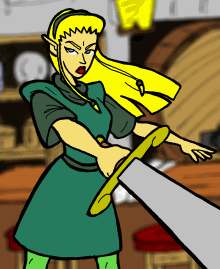 Lady Megan Arywyn
Real name: Megan
Age: Early twenties
Character: Elvish ranger
Other characters: An orc, a siren, and a sexy super heroine
Megan is the co-hostess of Elf Only Inn, a role she once took too seriously. But soon she found that it was less fun to enforce the EOI rules than it was to hang out with the people who were breaking them, and she became close friends with Duke, Nimoy and Woot.
Among the four of them she can easily be considered the leader. She tends to be the catalyst for anything they set out to do, whether it is scouting other chat rooms for new players or deciding how to spend the day goofing around. Her friends often make a game out of provoking her, but she enjoys the attention and can become quite jealous if anyone tries to interfere. She can be quick to anger, but she never retaliates with pinches or punches or smacks even though Duke begs for it.
Megan has had bad luck with romance lately, a situation she's not accustomed to dealing with. Having grown up as one of the popular and pretty girls in school, she was used to making and breaking relationships at a whim. She worries that she's losing her touch after her short fling with Woot ended poorly and that Duke doesn't seem as interested in courting her as he used to be.