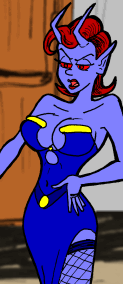 Lilith_123
Character: Shape-shifting succubus
Like Woot, Lily also came to EOI from the Deamon Citadel chatroom, which is basically an old folks home for super-powered godmoding evilniks. Unlike Woot, she had been one of the respected members of the room until she overheard Megan making rude comments about the intellectual capacity of demon chat. In retaliation, she set out for the Inn to humiliate Megan.

Lily has no equal as a wicked online seductress, in a few weeks she had cowed or dismissed the tougher male demon characters and had befriended or seduced all of Megan's friends. However, Megan managed to turn the tables on her in the end and their rivalry came to a halt with an anti-climatic RPG battle.

Lily changes her outward appearance more than any of the other characters, but beneath the facade she's always the same devil in a blue dress.